Raising the Curtain
It is his ability to reveal the meaning and emotion embodied in the text and the music that has solidified William Hite's reputation as an engaging and expressive artist. He has performed orchestral engagements, recitals and operas throughout North America and in Europe in some of the world's most prestigious and interesting venues including Carnegie Hall, Symphony Hall in Boston, Orchestra Hall in Chicago, the Kennedy Center, Theatre an der Wien in Vienna, Versailles, the Herodion at the foot of the Acropolis and Theatre de la Ville in Paris.

Upcoming Performances
After a season devoted to the great works of Benjamin Britten, William Hite returns to performances of some the signature pieces from his repertoire in 2014-15. This season he will appear at Symphony Hall in Boston with conductor David Hoose in Benjamin Britten's towering masterpiece
War Requiem
. In Hartford he will perform two of Handel's great title roles for tenor in
Jephtha
and
Judas Maccabeus
and perform
Messiah
at Duke University. During the very heart of winter he will perform Schubert's transcendent
Winterreise
twice with pianist Gilles Vonsattel at Bargemusic in New York City. And he will take the role of Evangelist in the St. John Passion at Trinity Church Wall Street and with the Bach Society of Minnesota. For more details about these and other performances please see
SCHEDULE
.
Recent Accolades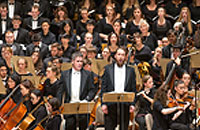 On November 27th, 2014 Sudeep Agarwala (
The Boston Musical Intelligencer
) said of a performance of Britten's War Requiem at Symphony Hall, Boston: 
"William Hite's nuanced and subtle tenor … has a well-tempered, lyrical sound that was able to convey emotion with an eerie effect."
→ Read the full
review
.


J. Peter Bergman, in a Bright Berkshire Focus review of the world premiere of Eric Sawyer's Garden of Martyrs, wrote "Hite is amazing. That's the only way to describe this role and his work in it. Cheverus is a demanding stage role and Hite has the sustainability to handle it. He brings many things to bear here, including a perfect tone and a splendidly interpretive attack on the role. His third act confession aria with Jamy's interpolations is a show-stopper and rightfully so as it is the moment that affords him a solo bow at the curtain call, a well-deserved one. This role could be the one for which he is remembered."
"… He didn't perform the music so much as
share the profound experience he was having
with it …"
~ David Patrick Stearns | Philadelphia Inquirer
Featured CD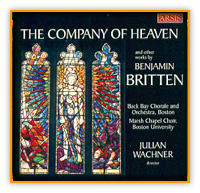 The Company of Heaven
Back Bay Chorale and Chorus
In celebration of the centennial of
Benjamin Britten's birth.