Raising the Curtain
It is his ability to reveal the meaning and emotion embodied in the text and the music that has solidified William Hite's reputation as an engaging and expressive artist. He has performed orchestral engagements, recitals and operas throughout North America and in Europe in some of the world's most prestigious and interesting venues including Carnegie Hall, Symphony Hall in Boston, Orchestra Hall in Chicago, the Kennedy Center, Theatre an der Wien in Vienna, Versailles, the Herodion at the foot of the Acropolis and Theatre de la Ville in Paris.

Upcoming Performances
The Garden of Martyrs
An Opera by Eric Sawyer
Bill performs the lead role of Father Jean Louis de Chevrus in this world premiere based on an event that transfixed New England two centuries ago: the murder trial of Dominic Daley and Jamey Halligan.
Venue and dates …

The music of Benjamin Britten will figure prominently in Mr. Hite's upcoming concert season. In October he will perform an all-Britten recital with pianist Estela Olevsky at Trinity Church, Wall Street in their Concerts at One series.  He will perform Britten's Serenade with Orquesta Sinfónica de Xalapa (Mexico) and the Fairfax (VA) Symphony Orchestra, and later in the season he will return to Fairfax to sing Britten's Nocturne. And the tenor will return to his Boston roots for a concert on Emmanuel Music's Beethoven Chamber Series and Elijah with the Cantata Singers.
Recent Accolades
In an April 1, 2013
New York Times
review
which compared three performances of Bach's
St. Matthew Passion
, James Oestreich wrote
"The Trinity [Church, Wall Street] pair, William Hite as the Evangelist and Stephen Salters as Jesus, were also excellent. Mr. Hite, in fine voice, described the action rather than lived it, a legitimate, time-honored approach."

Marvin J. Ward, in a June 30, 2013 Boston Musical Intelligencer review of the Mohawk Trail Concerts' opening night, wrote "The diversity of the choices allowed Hite to reveal his range; he nuanced his performance vocally and gesturally, ranging from a nearly inaudible pianissimo to a resounding forte; his diction was also impeccable, precise, and clear."
"… He didn't perform the music so much as
share the profound experience he was having
with it …"
~ David Patrick Stearns | Philadelphia Inquirer
Featured CD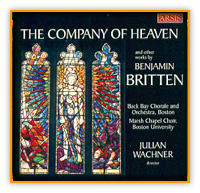 The Company of Heaven
Back Bay Chorale and Chorus
In celebration of the centennial of
Benjamin Britten's birth.